We are very excited to start our expedition to Spain to compete in the Sunshine Tour in Vejer de la Frontera for 5 consecutive weeks, where the weather and conditions should be perfect for show jumping at this time of the year. The six horses are on the lorry, and so is the equipment and food.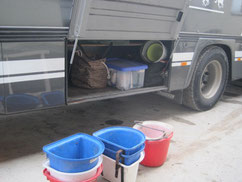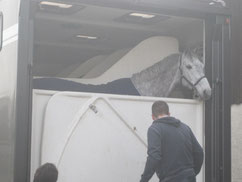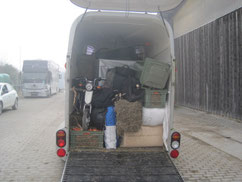 Larissa drafted up many lists on small and large pieces of paper to make sure that every tiny bit of equipment will be packed and loaded. Over 1000 items (tack, blankets, buckets, vitamins, cleaning equipment, bandages, you name it) have been stowed away in the tack boxes and compartments of the lorry. Roughly one ton of food, wheel barrels, forks, shovels, etc. travel in the trailer. We hope we did not forget any essentials, but will certainly find out soon enough :-)
The six horses we take on the 2,200 km drive to the South of Spain are Esqydo, Guidarc, Zondela, Deejee, Cilina and Jadore. We hope they will not get totally bored during the long hours on the lorry and will all arrive safely at their destination.
A huge thank-you to our drivers Conny and Beat, who will make sure that we advance at a good speed and reach our first stop in Oliva Nova within the next 15 hours maximum, where we will give the horses (and team) some time to relax and move their limbs before taking on the 2nd leg of the long drive into the sunshine.
Our rider Larissa and her groom Kris, and Beat's daughter Olivia, complete the team on the lorry, and Larissa's dog Tiger supervises (or maybe sleeps through) the trip. Lola wanted to go too, but then realized that Jürg will stay behind for the first two weeks to take care of her.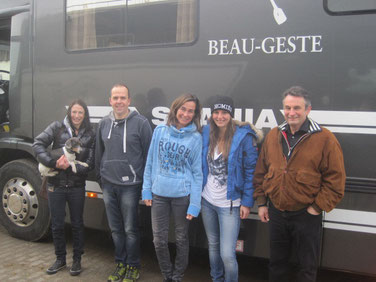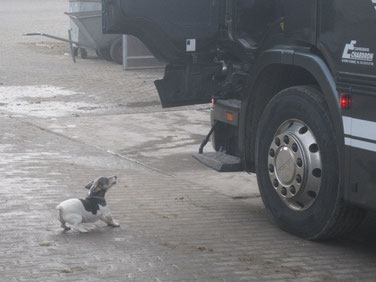 Finally we can leave the cold and foggy weather and look forward to having fun, winning some ribbons, gaining experience and making progress with the horses and get them ready for the 2015 season under perfect conditions. And above all: Stay healthy and get back in one piece!
Larissa will keep us posted on the Stall Notz Facebook page whenever she finds time (and a working internet connection), so please like our page to stay up-to-date!